The thing I find so great about doing Twitter consulting is the wide range of vertical applications that are completely open for new development. One of them is higher level education. We've just launched a new site called Social Studies that applies the techniques of tweet aggregation to help students study collectively.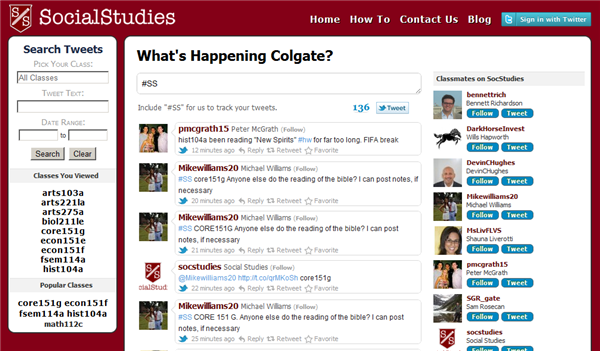 This work was done under contract with a Colgate University freshman student, Peter McGrath, who has a vision for the next generation response to Facebook. Peter grew up with social networks, and now wants to use his experience to add a social layer to college study. I think this may be an example of Web 3.0 in its earliest stages.
This first version of Social Studies is a tweet database that lets you view tweets based on colleges and individual classes, but the next phase of development will add a point system and game dynamics to make the whole experience a lot more fun.
Do you have a vision of the next great application for Twitter? We can help you bring it to life.