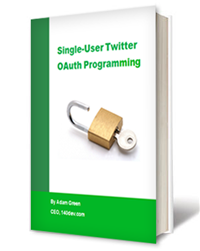 This free ebook covers everything you need to use OAuth from a single Twitter account. It is available as a free PDF download on our members page. You can also get the source code for all the examples in the ebook there as well.
Here are the topics covered:
Create your first Twitter application
Set up OAuth tokens for single-user access
Connect to the Twitter API with the tmhOAuth library
Posting tweets through the API
Looking up complete account details for any Twitter user
Converting Twitter API docs into working PHP code
Debug and test any API request with your own API console
I've also created a new Google Group for questions and discussions of the issues raised by this ebook.